Page 6 - The Merivale Collection
P. 6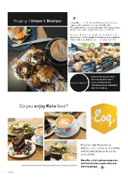 Keeping it Unique & Boutique
Cocoa Black is a small cafe with BIG personality. Serving up Allpress coffee made with love and a friendly smile.
The cabinet is filled with a tempting array for breakfast, brunch and lunch with dairy and gluten free treats on offer too.
Known for delicious food, friendly service and our famous cheese scones! We love making food from scratch, sourcing the best ingredients available and as close to home as possible.
    Besides making great coffee, there are specialty organic lattes, turmeric and chai, refreshing iced teas, milkshakes and fruit smoothies.
 Do you enjoy Keto food?
   Esquires Cafe Merivale has delicious Keto coffee, yummy Keto sweets and savouries to satisfy your craving.
We offer a full cabinet selection and hot kitchen meals that are sure to please.
 PAGE 6.