Page 35 - foodservice magazine August 2019
P. 35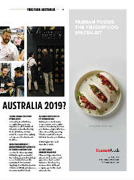 FINE FOOD AUSTRALIA
5
Gua Bao Sandwich Bun.pdf
3 2019-04-30 14:49:06
AUSTRALIA 2019?
TALKING TRENDS PRESENTED
BY NCR SILVER
Powered by Food Industry Foresight, this is your one
stop shop for all national and international trends affecting the food industry. A must- attend for anyone who regularly reinvigorates their business for the future.
AGED CARE CONFERENCE – DINING WITH DIGNITY: ADVANCES IN TEXTURE MODIFIED FOODS Essential for those operating within the aged-care market, this half-day practical workshop covers the latest laws on the essentials of International Dysphagia Diet Standardisation Initiative (IDDSI) and advances in texture modified foods.
C
M Y CM MY CY CMY K
TALKING SHOP PRESENTED
BY FREEDOM FOODS
Industry icons tackle issues
in conversation, such as what trends are here to stay, how can your business adapt and how are others successfully operating. This free event will arm you with new ideas for your business.
Returning to Fine Food Australia in 2019:
ACF AUSTRALIAN
CULINARY CHALLENGE
This exciting competition attracts chefs, trainees and apprentices from around Australia. Watch as they showcase their skills and compete against the clock and each other.