Page 11 - AreaNewsletters "May 2020" issue
P. 11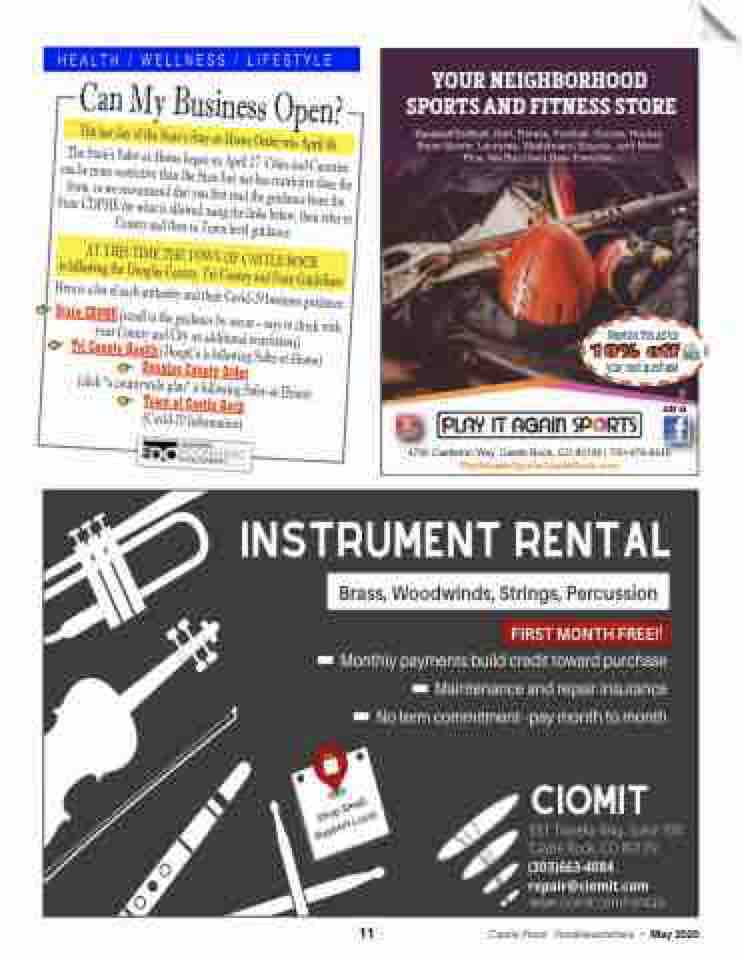 Play It Again Sports
Fitness YOUR NEIGHBORHOOD
SPORTS AND FITNESS STORE
Baseball/Softball, Golf, Fitness, Football, Soccer, Hockey, Snow Sports, Lacrosse, Skateboard, Bicycle...and More! Plus, We Buy Used Gear Everyday.
Mention this ad for
10% off
your next purchase
LIKE Us
4760 Castleton Way, Castle Rock, CO 80109 | 720-479-8245
PlayItAgainSportsCastleRock.com
HEALTH / WELLNESS / LIFESTYLE
CIOMIT Musical Instruments Repair Rentals
Brass, Woodwinds, Strings, Percussion
FIRST MONTH FREE!
651 Topeka Way, Suite 100 Castle Rock, CO 80109 (303)663-4084
repair@ciomit.com
www.ciomit.com/rentals
11 Castle Rock "AreaNewsletters • May 2020
Can My Business Open?
The last day of the State's Stay-at-Home Order was April 26.
The State's Safer-at-Home began on April 27. Cities and Counties can be more restrictive than the State but not less restrictive than the State, so we recommend that you first read the guidance from the State CDPHE for what is allowed using the links below, then refer to County and then to Town level guidance.
AT THIS TIME THE TOWN OF CASTLE ROCK
is following the Douglas County, Tri-County and State Guidelines
Here is a list of each authority and their Covid-19 business guidance:
State CDPHE (scroll to the guidance by sector – says to check with your County and City on additional restrictions)
Tri County Health (DougCo is following Safer-at-Home) Douglas County Order
(click "a countywide plan" is following Safer-at-Home) Town of Castle Rock
(Covid-19 Information)
TIMOIC
htnom ot htnom yap--tnemtimmoc mret oN
ecnarusni riaper dna ecnanetniaM
esahcrup drawot tiderc dliub stnemyap ylhtnoM
!
LATNER TNEMURTSNI
Shop Small. Support Local.