Page 41 - AreaNewsletters "May 2021" issue
P. 41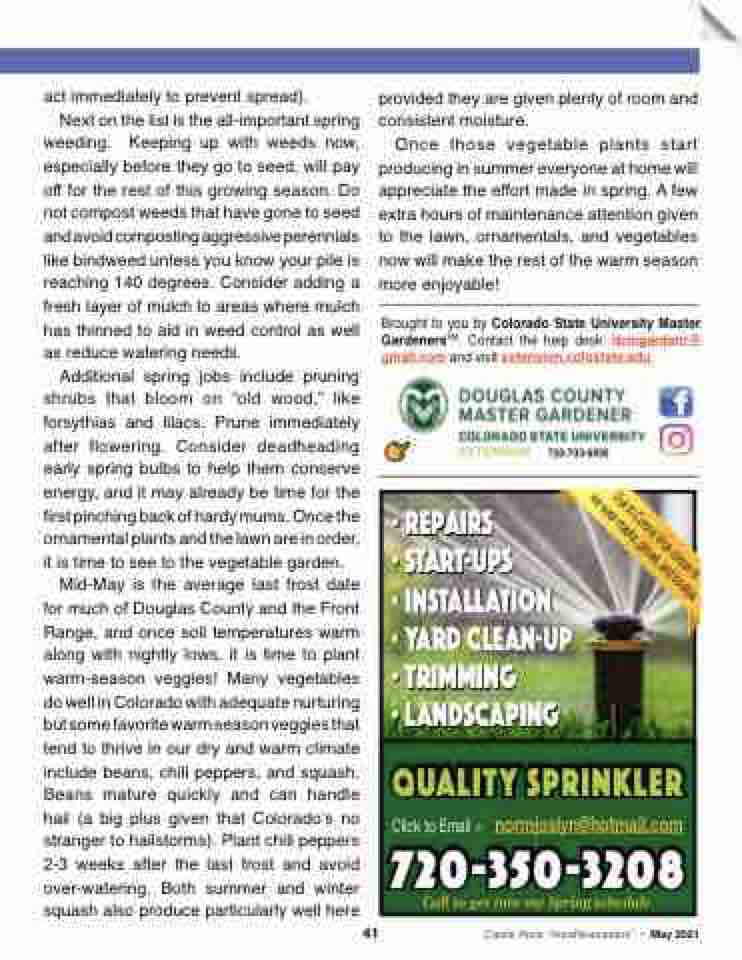 • repairs
• START-UPS
• INSTALLATION •YARDCLEAN-UP • TRIMMING
• LANDSCAPING
QUALITY SPRINKLER
Click to Email > normjoslyn@hotmail.com
720-350-3208
Call to get into my Spring schedule
act immediately to prevent spread).
Next on the list is the all-important spring weeding. Keeping up with weeds now, especially before they go to seed, will pay off for the rest of this growing season. Do not compost weeds that have gone to seed and avoid composting aggressive perennials like bindweed unless you know your pile is reaching 140 degrees. Consider adding a fresh layer of mulch to areas where mulch has thinned to aid in weed control as well
as reduce watering needs.
Additional spring jobs include pruning
shrubs that bloom on "old wood," like forsythias and lilacs. Prune immediately after flowering. Consider deadheading early spring bulbs to help them conserve energy, and it may already be time for the  rst pinching back of hardy mums. Once the ornamental plants and the lawn are in order, it is time to see to the vegetable garden.
Mid-May is the average last frost date for much of Douglas County and the Front Range, and once soil temperatures warm along with nightly lows, it is time to plant warm-season veggies! Many vegetables do well in Colorado with adequate nurturing but some favorite warm season veggies that tend to thrive in our dry and warm climate include beans, chili peppers, and squash. Beans mature quickly and can handle hail (a big plus given that Colorado's no stranger to hailstorms). Plant chili peppers 2-3 weeks after the last frost and avoid over-watering. Both summer and winter squash also produce particularly well here
provided they are given plenty of room and consistent moisture.
Once those vegetable plants start producing in summer everyone at home will appreciate the effort made in spring. A few extra hours of maintenance attention given to the lawn, ornamentals, and vegetables now will make the rest of the warm season more enjoyable!
Brought to you by Colorado State University Master GardenersSM. Contact the help desk: dcmgardenr@ gmail.com and visit extension.colostate.edu.
720-733-6935
41
Castle Rock "AreaNewsletters" • May 2021
Due to Corona Virus concerns we wear masks, gloves, and booties.