Page 16 - AreaNewsletters "June 2020" issue
P. 16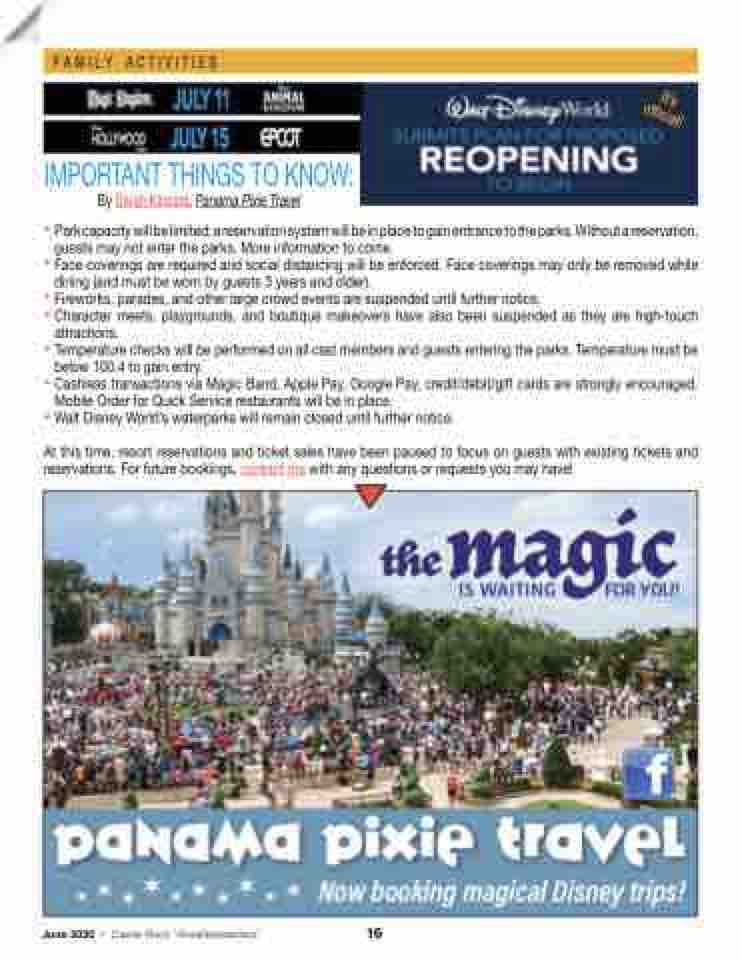 F A MI L Y A C T I V I T I E S
IMPORTANT THINGS TO KNOW:
By Sarah Kincaid, Panama Pixie Travel
• Parkcapacitywillbelimited;areservationsystemwillbeinplacetogainentrancetotheparks.Withoutareservation, guests may not enter the parks. More information to come.
• Face coverings are required and social distancing will be enforced. Face coverings may only be removed while dining (and must be worn by guests 3 years and older).
• Fireworks, parades, and other large crowd events are suspended until further notice.
• Character meets, playgrounds, and boutique makeovers have also been suspended as they are high-touch
attractions.
• Temperature checks will be performed on all cast members and guests entering the parks. Temperature must be
below 100.4 to gain entry.
• Cashless transactions via Magic Band, Apple Pay, Google Pay, credit/debit/gift cards are strongly encouraged.
Mobile Order for Quick Service restaurants will be in place.
• Walt Disney World's waterparks will remain closed until further notice.
At this time, resort reservations and ticket sales have been paused to focus on guests with existing tickets and reservations. For future bookings, contact me with any questions or requests you may have!
Panama Pixie Travel Disney World
June 2020 • Castle Rock "AreaNewsletters" 16
It's o cial!