Page 17 - AreaNewsletters "June 2020" issue
P. 17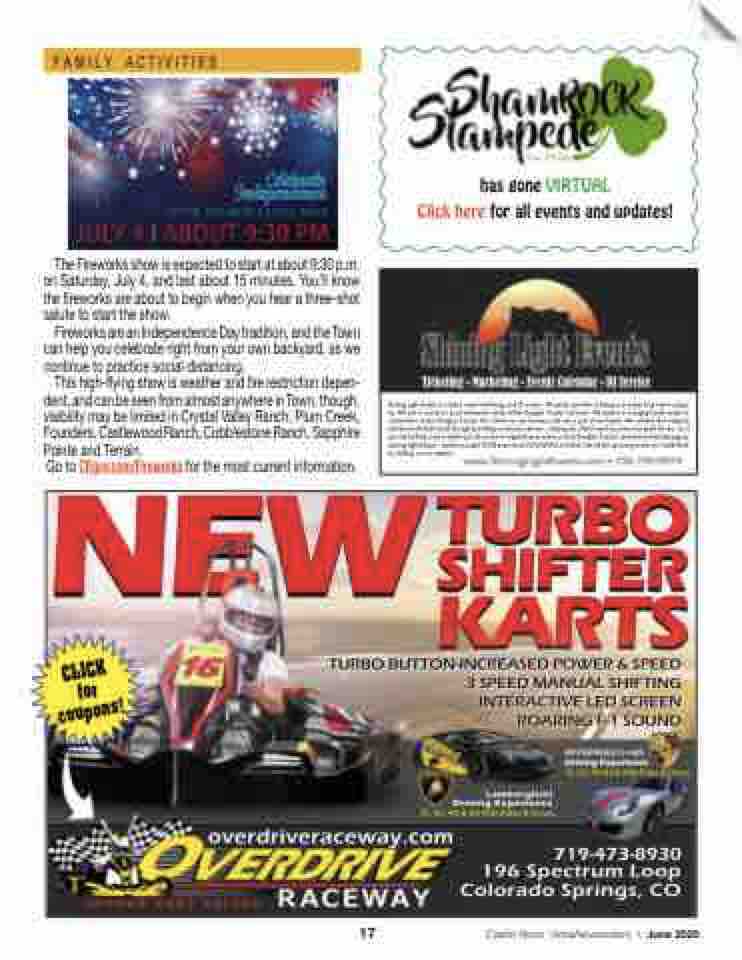 F A MI L Y A C T I V I T I E S
The Fireworks show is expected to start at about 9:30 p.m. on Saturday, July 4, and last about 15 minutes. You'll know the  reworks are about to begin when you hear a three-shot salute to start the show.
Fireworks are an Independence Day tradition, and the Town can help you celebrate right from your own backyard, as we continue to practice social distancing.
This high- ying show is weather and  re restriction depen- dent, and can be seen from almost anywhere in Town, though, visibility may be limited in Crystal Valley Ranch, Plum Creek, Founders, Castlewood Ranch, Cobblestone Ranch, Sapphire Pointe and Terrain.
Go to CRgov.com/Fireworks for the most current information.
has gone VIRTUAL
Click here for all events and updates!
Ticketing • Marketing • Events Calendar • DJ Service
Shining Light Events is a ticket, event marketing, and DJ source. We pride ourselves in being a one-stop-shop event compa- ny. We are a source for local community events within Douglas County Colorado. We believe in bringing family events to communities across Douglas County. Our clients run our business and are a part of our family. We achieve their requests and assist with their event through providing world class service... helping our clients events be more successful for less. So if you are looking some something to do or you're organizing an event, contact Douglas County's premiere promoting agency Shining Light Events... and let us make YOUR event more SUCCESSFUL for LESS! See all the upcoming events for Castle Rock by clicking on our website!
Overdrive Raceway Go Karts Go Carts
17
Castle Rock "AreaNewsletters • June 2020
CLICK for coupons!