Page 11 - AreaNewsletters "Jan 2021" issue
P. 11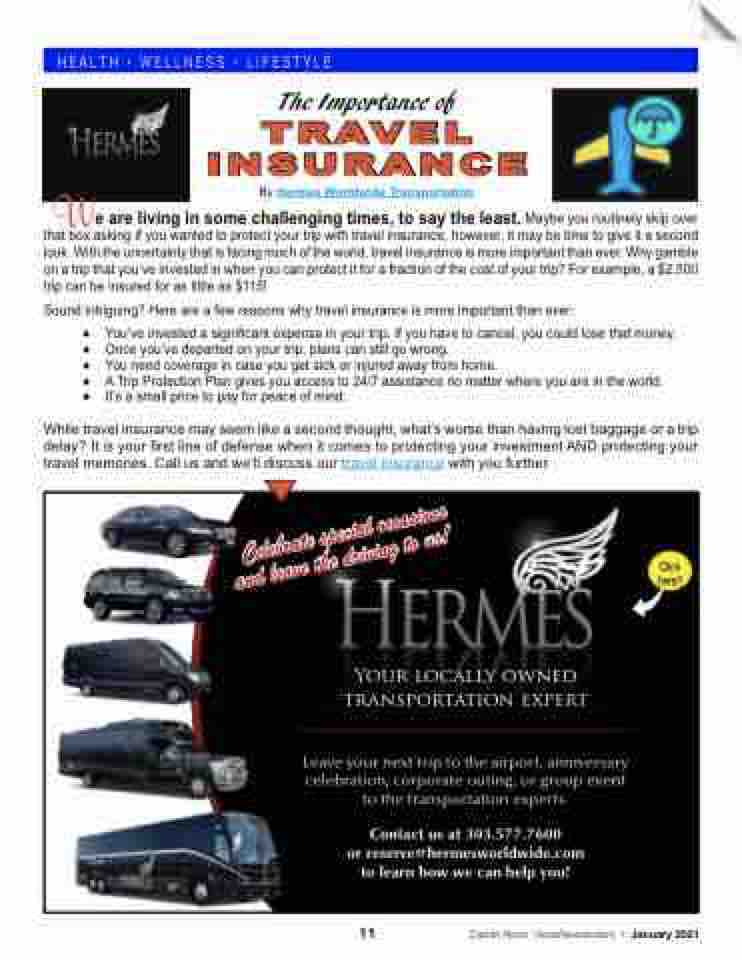 HEALTH • WELLNESS • LIFESTYLE
Sound intriguing? Here are a few reasons why travel insurance is more important than ever:
● You've invested a signi cant expense in your trip. If you have to cancel, you could lose that money.
● Once you've departed on your trip, plans can still go wrong.
● You need coverage in case you get sick or injured away from home.
● A Trip Protection Plan gives you access to 24/7 assistance no matter where you are in the world.
● It's a small price to pay for peace of mind.
While travel insurance may seem like a second thought, what's worse than having lost baggage or a trip delay? It is your  rst line of defense when it comes to protecting your investment AND protecting your travel memories. Call us and we'll discuss our travel insurance with you further.
The Importance of
TRAVEL INSURANCE
By Hermes Worldwide Transportation
We are living in some challenging times, to say the least. Maybe you routinely skip over that box asking if you wanted to protect your trip with travel insurance, however, it may be time to give it a second look. With the uncertainty that is facing much of the world, travel insurance is more important than ever. Why gamble on a trip that you've invested in when you can protect it for a fraction of the cost of your trip? For example, a $2,500 trip can be insured for as little as $115!
Click here!!
Your locally owned transportation expert
Leave your next trip to the airport, anniversary celebration, corporate outing, or group event to the transportation experts.
Contact us at 303.577.7600
or reserve@hermesworldwide.com to learn how we can help you!
11 Castle Rock "AreaNewsletters • January 2021
Celebrate special occasions and leave the driving to us!