Page 19 - AreaNewsletters "July 2020" issue
P. 19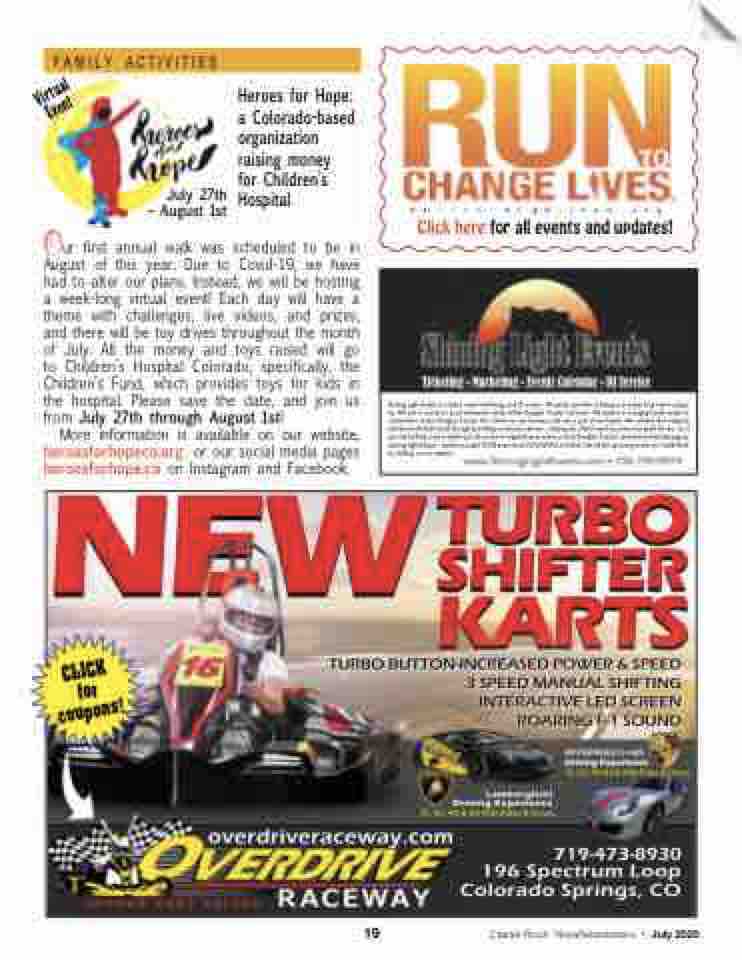 F A MI L Y
A C T I V I T I E S
July 27th – August 1st
Heroes for Hope: a Colorado-based
organization raising money for Children's Hospital
Our first annual walk was scheduled to be in August of this year. Due to Covid-19, we have had to alter our plans. Instead, we will be hosting a week-long virtual event! Each day will have a theme with challenges, live videos, and prizes, and there will be toy drives throughout the month of July. All the money and toys raised will go to Children's Hospital Colorado, specifically, the Children's Fund, which provides toys for kids in the hospital. Please save the date, and join us from July 27th through August 1st!
More information is available on our website, heroesforhopeco.org or our social media pages heroesforhope.co on Instagram and Facebook.
Click here for all events and updates!
Ticketing • Marketing • Events Calendar • DJ Service
Shining Light Events is a ticket, event marketing, and DJ source. We pride ourselves in being a one-stop-shop event compa- ny. We are a source for local community events within Douglas County Colorado. We believe in bringing family events to communities across Douglas County. Our clients run our business and are a part of our family. We achieve their requests and assist with their event through providing world class service... helping our clients events be more successful for less. So if you are looking some something to do or you're organizing an event, contact Douglas County's premiere promoting agency Shining Light Events... and let us make YOUR event more SUCCESSFUL for LESS! See all the upcoming events for Castle Rock by clicking on our website!
Overdrive Raceway Go Karts Go Carts
19
Castle Rock "AreaNewsletters • July 2020
Virtual Event
CLICK for coupons!