Page 5 - Packaging News Magazine Nov-Dec 2021
P. 5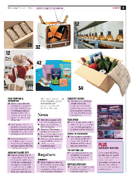 12
32
November-December 2021 | www.packagingnews.com.au
| INSIDE 5
52
 26
  42
 PACK PRINTING & DECORATION
42 Global digital flexible
packaging print specialist ePac Flexible Packaging is building a plant in Australia, with the Melbourne site set to be operational by the end
of the year.
44 PKN speaks to Kurz's Stephen Pratt about how to balance sustainability and profitability in the arena of packaging embellishment.
46 Commercial printer
CBS Printing pivots into ready-meal packaging and sets up a on-stop shop for food brand owners.
HEADLINEMAKERS2021 50 Despiteanotheryearof
unprecedented change and challenge brought on by Covid, the Australasian packaging industry has forged ahead resiliently, keeping sustainability front and centre. In this
2021 review, we take a look at the companies, people, investments, and innovation that made headlines this year.
54
INDUSTRY INSIGHT
News
06 TricorBraun enters ANZ with Cormack purchase
06 Praise shifts to 100% rPET packaging
07 Treasury Wine makes packaging eco progress
08 Recycled beverage cartons to build Aussie walls
08 Shipping challenges push consumables costs up
09 APCO launches sustainable pack roadmap for dairy
Regulars
COMMENT
03 Lindy Hughson writes on
the problem of wishcycling and the call for clear on-pack recycling labels to stop consumer confusion.
TECH SPEAK
14 AIP'sNeridaKeltonlooks
at the increase in reusable and refillable packaging programs across the globe.
PEOPLE IN PACKAGING
30 PKN speaks to industry
contributor and Result Group's GM Michael Dossor about his career and his convictions.
THE BOTTOM LINE
31 PaulAllenadvisesonthe
complexity of business silos and their cost to the bottom line.
SUPPLIER SPOTLIGHT
48 Anewtypeoflightcurtain
from Pilz Automation raises the safety bar.
12
The 2021 Tetra Pak Index reveals consumer priorities have shifted towards taking action to keep ourselves, our food, our communities and our planet secure.
  PLUS
MACHINERY MATTERS
APPMA and PKN bring you this regular special supplement, focused on news, trends and technology relevant to the dynamic Australasian packaging and processing machinery sector.