Page 10 - Ommegang Brochure 2021_Neat
P. 10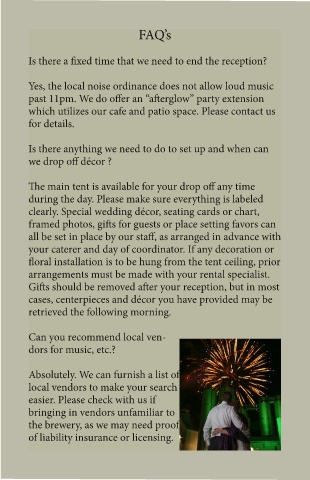 FAQ's


        Is there a fixed time that we need to end the reception?


        Yes, the local noise ordinance does not allow loud music
        past 11pm. We do offer an "afterglow" party extension
        which utilizes our cafe and patio space. Please contact us
        for details.


        Is there anything we need to do to set up and when can
        we drop off décor ?

        The main tent is available for your drop off any time
        during the day. Please make sure everything is labeled
        clearly. Special wedding décor, seating cards or chart,
        framed photos, gifts for guests or place setting favors can
        all be set in place by our staff, as arranged in advance with
        your caterer and day of coordinator. If any decoration or
        floral installation is to be hung from the tent ceiling, prior
        arrangements must be made with your rental specialist.
        Gifts should be removed after your reception, but in most
        cases, centerpieces and décor you have provided may be
        retrieved the following morning.


        Can you recommend local ven-
        dors for music, etc.?


        Absolutely. We can furnish a list of
        local vendors to make your search
        easier. Please check with us if
        bringing in vendors unfamiliar to
        the brewery, as we may need proof
        of liability insurance or licensing.