Page 16 - 2020 Summmer/Fall Catalog
P. 16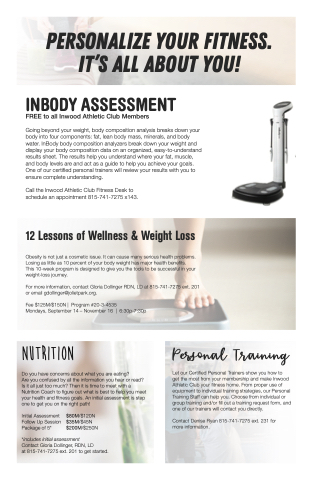 Personalize Your Fitness. It's all about you!
INBODY ASSESSMENT
FREE to all Inwood Athletic Club Members
Going beyond your weight, body composition analysis breaks down your body into four components: fat, lean body mass, minerals, and body water. InBody body composition analyzers break down your weight and display your body composition data on an organized, easy-to-understand results sheet. The results help you understand where your fat, muscle, and body levels are and act as a guide to help you achieve your goals. One of our certified personal trainers will review your results with you to ensure complete understanding.
Call the Inwood Athletic Club Fitness Desk to schedule an appointment 815-741-7275 x143.
12 Lessons of Wellness & Weight Loss
Obesity is not just a cosmetic issue. It can cause many serious health problems. Losing as little as 10 percent of your body weight has major health benefits. This 10-week program is designed to give you the tools to be successful in your weight-loss journey.
For more information, contact Gloria Dollinger RDN, LD at 815-741-7275 ext. 201 or email gdollinger@jolietpark.org.
  Fee $125M/$150N | Program #20-3-4535
Mondays, September 14 – November 16 | 6:30p-7:30p
Nutrition
Do you have concerns about what you are eating?
Are you confused by all the information you hear or read? Is it all just too much? Then it is time to meet with a Nutrition Coach to figure out what is best to help you meet your health and fitness goals. An initial assessment is step one to get you on the right path!
Personal Training
Let our Certified Personal Trainers show you how to
get the most from your membership and make Inwood Athletic Club your fitness home. From proper use of equipment to individual training strategies, our Personal Training Staff can help you. Choose from individual or group training and/or fill out a training request form, and one of our trainers will contact you directly.
Contact Denise Ryan 815-741-7275 ext. 231 for more information.
  Initial Assessment Follow Up Session Package of 5*
$80M/$120N $35M/$45N $200M/$250N
*includes initial assessment
Contact Gloria Dollinger, RDN, LD
at 815-741-7275 ext. 201 to get started.