Page 47 - AreaNewsletters "May 2021" issue
P. 47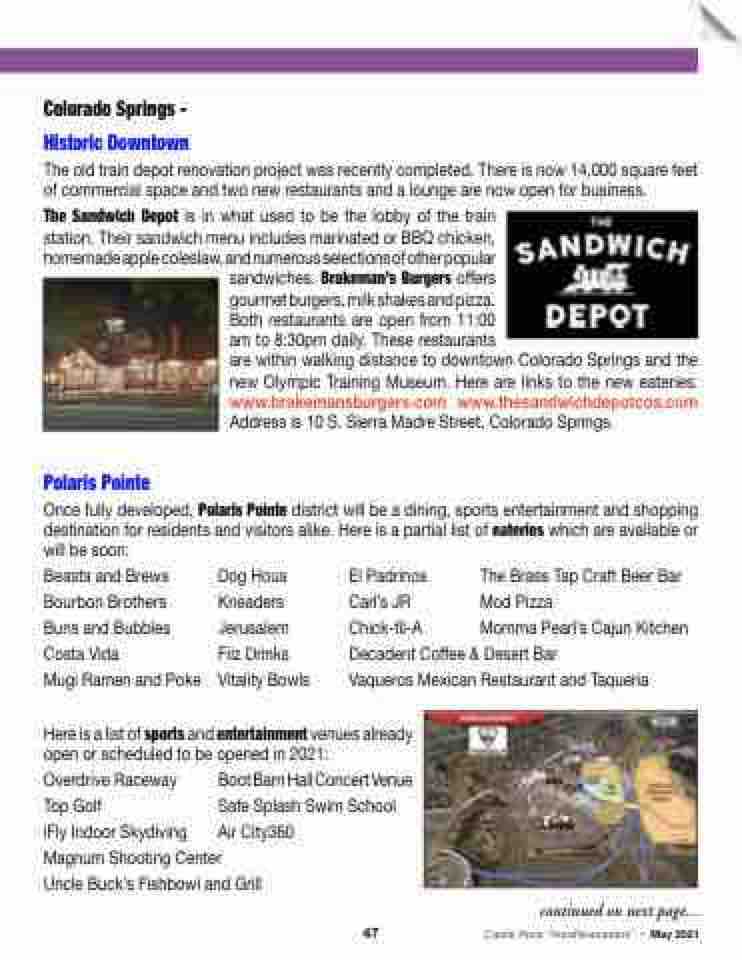 Colorado Springs -
Historic Downtown
The old train depot renovation project was recently completed. There is now 14,000 square feet of commercial space and two new restaurants and a lounge are now open for business.
The Sandwich Depot is in what used to be the lobby of the train station. Their sandwich menu includes marinated or BBQ chicken, homemade apple coleslaw, and numerous selections of other popular
sandwiches. Brakeman's Burgers o ers
gourmet burgers, milk shakes and pizza.
Both restaurants are open from 11:00
am to 8:30pm daily. These restaurants
are within walking distance to downtown Colorado Springs and the new Olympic Training Museum. Here are links to the new eateries: www.brakemansburgers.com www.thesandwichdepotcos.com Address is 10 S. Sierra Madre Street, Colorado Springs.
Polaris Pointe
Once fully developed, Polaris Pointe district will be a dining, sports entertainment and shopping destination for residents and visitors alike. Here is a partial list of eateries which are available or
will be soon:
Beasts and Brews Bourbon Brothers Buns and Bubbles Costa Vida
Mugi Ramen and Poke
Dog Hous Kneaders Jerusalem Fiiz Drinks Vitality Bowls
The Brass Tap Craft Beer Bar Mod Pizza
Momma Pearl's Cajun Kitchen
Here is a list of sports and entertainment venues already open or scheduled to be opened in 2021:
Overdrive Raceway
Top Golf
iFly Indoor Skydiving
Magnum Shooting Center Uncle Buck's Fishbowl and Grill
BootBarnHallConcertVenue Safe Splash Swim School Air City360
El Padrinos
Carl's JR
Chick- l-A
Decadent Co ee & Desert Bar
Vaqueros Mexican Restaurant and Taqueria
47 Castle Rock "AreaNewsletters" • May 2021
continued on next page...