Page 13 - AreaNewsletters "June 2020" issue
P. 13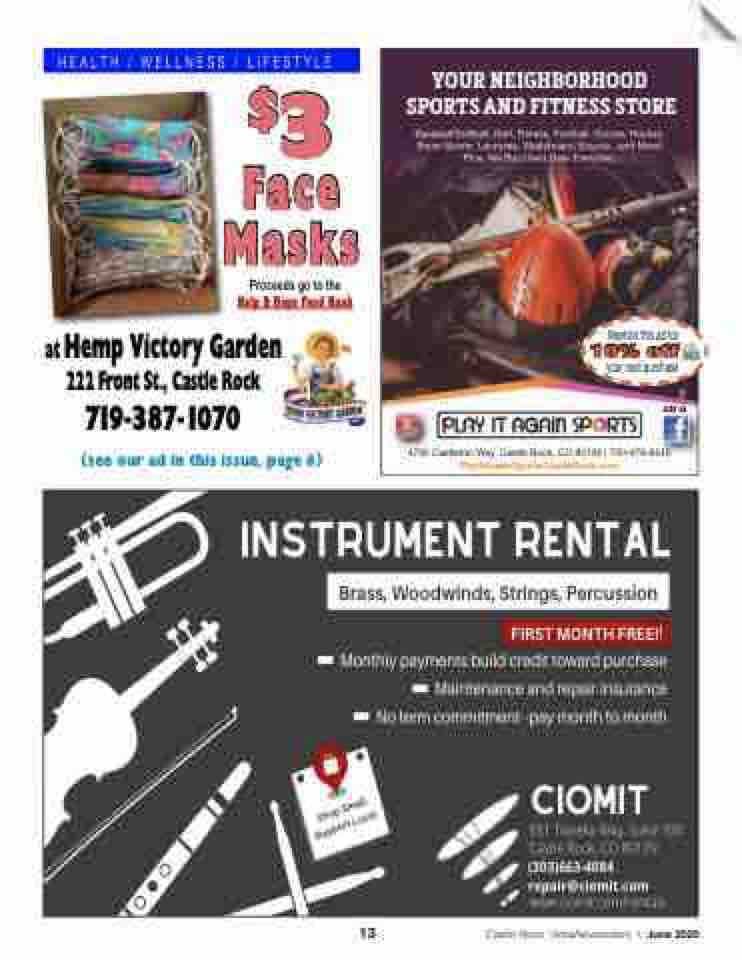 Play It Again Sports
Fitness YOUR NEIGHBORHOOD
SPORTS AND FITNESS STORE
Baseball/Softball, Golf, Fitness, Football, Soccer, Hockey, Snow Sports, Lacrosse, Skateboard, Bicycle...and More! Plus, We Buy Used Gear Everyday.
Mention this ad for
10% off
your next purchase
LIKE Us
4760 Castleton Way, Castle Rock, CO 80109 | 720-479-8245
PlayItAgainSportsCastleRock.com
HEALTH / WELLNESS / LIFESTYLE
$3
Face Masks
Proceeds go to the
Help & Hope Food Bank
at Hemp Victory Garden 222 Front St., Castle Rock
719-387-1070
(see our ad in this issue, page 6)
CIOMIT Musical Instruments Repair Rentals
Brass, Woodwinds, Strings, Percussion
FIRST MONTH FREE!
651 Topeka Way, Suite 100 Castle Rock, CO 80109 (303)663-4084
repair@ciomit.com
www.ciomit.com/rentals
13 Castle Rock "AreaNewsletters • June 2020
TIMOIC
htnom ot htnom yap--tnemtimmoc mret oN
ecnarusni riaper dna ecnanetniaM
esahcrup drawot tiderc dliub stnemyap ylhtnoM
!
LATNER TNEMURTSNI
Shop Small. Support Local.