Page 24 - AdNews April 2020
P. 24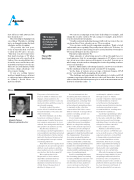 Agenda
first full year with 2019 and we have learned a lot."
The viewership is changing from one of linear TV guides to catching up, to on demand viewing, the back catalogue and live streaming.
"We provide the best post- codes in Australia that you want to show your TV ad to," he says. "That way you don't experience that much wastage of TV when you show your ad to everybody in Sydney. You can actually just zero in on the areas and be more effi- cient with your buy. Postcodes are where we are at the minute, which provides a huge advantage over city or metro buying.
If you are selling luxury watches it might be more efficient to only target more affluent areas in Sydney's North Shore or Eastern Suburbs.
Nine
Hamish Turner,
Nine program director
"We've been in the market for our first full year with 2019 and we have learned a lot."
Finecast MD Brett Poole
"We can run a campaign around auto dealerships for example, and change the creative on those TV ads, saying, for example, pop down to your local dealer in Parramatta.
"Usually a national marketing manager will work to promote the cars on a brand level. Now, a dealer can see TV as an option.
"You can run a really specific campaign somewhere. Think of retail outlets with a store opening. They really weren't able to do TV before. So it's become a lot more interesting for more tactical stuff but obviously it's TV if you still want to do the awareness."
This isn't a replacement for TV.
"Huge amounts of advertising spend to still go through there for reach purposes. But it's an amazing companion to TV where you can zero in on areas where increased frequency is needed. You can use a whole range of tactics such as changing the creative depending on where you are in Australia."
Amobee, which unifies advertising channels, says TV is very effective but the challenge is that how people consume TV is changing.
"As the share of viewers across a range of formats changes, BVOD grows," says Liam Walsh, managing director ANZ.
"The challenge and opportunity for the industry is to deliver a BVOD consumer experience that can attract to the scale linear has. If we can achieve that then the infrastructure pieces such as measurement can be delivered relatively easily."
    The power of television has
been its ability to influence and engage a mass audience, its unique ability to deliver scale at a moment in time with the power to emotionally engage.
It's what created the water cooler effect. It's what has made household names of its stars and delivered brands.
No other medium can do this. Television continues to have a unique power to unite the masses in a common experience, to cross cultural, class and gender divisions and speak to an audience as one.
But, the mass audience is becoming a scarcity. Fragmentation across platforms and devices has led to the proliferation of niche clusters and led to the idea of television fast becoming a fluid concept: content or delivery platform?
And, while technology has been a disruptor, it also provides greater utility to reach audience and has given audience more control than ever before. But do they want it?
More options has led to
the paradox of choice where algorithms and data delivers recommendations but also abundance anxiety. And on top of that, there's the question of whether to binge or not.
Recent entrants into the streaming war have embraced the old age strategy of patience and anticipation, a strategy that allows brands to live for longer
in the zeitgeist, giving them time to marinate in the collective conversation. But it also comes with its own risk - in an age where patience is fading, people can move on quickly.
It's not surprising that with so much choice, consumption of content has never been higher. What is eroding is the unifying power of the shared experience.
Audiences are becoming lost
in a sea of content without a clear aggregator to help them sail through the choppy waters. The paradox choice has revealed the malaise
that sits at the heart of this sea as it reinforces that while content may
be king, curated programming is the invisible force behind the throne. There is something comforting about curation and the unifying power of a sense of something shared.
And it's something that even the streaming giants are starting to realise. Netflix has started to roll out a ranking system which taps into this idea of mass audiences
- users can now see the top 10 shows across the country. This is
an attempt to optimise content through a sense of "what's popular". It wants to make popular recommendations, however
so far the lack of demographic curation means that niche clusters are being served up as mass recommendations, creating more frustration for audiences.
Curated programming is what television has delivered viewers for decades, and still does. While there has been a trend to binge watching, there is a value in shows airing at a set time a week. It creates a habit, a routine.
Audiences know that at 7.30 there are options on FTA that can serve as both a sense of the shared experience but also content that
is temporally relevant and must
be consumed within a certain timeframe. And we are seeing a shift to appointment viewing as even streaming services realise the benefits of programming shows to air at a certain time.
After all, streaming isn't paving the way in viewer habits, it's just morphing traditional television behaviour onto a new platform. And the answer to the content or platform delivery question should be clear: television isn't dead - it just has given birth to a new era.