Page 137 - MBS 2022/23
P. 137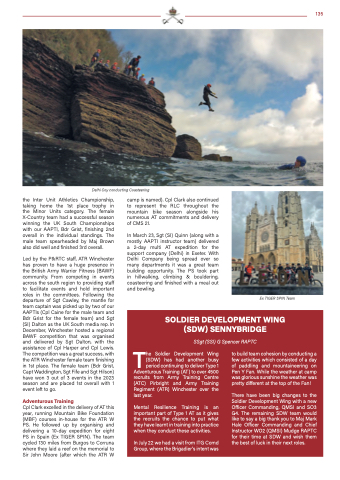 the Inter Unit Athletics Championship, taking home the 1st place trophy in the Minor Units category. The female X-Country team had a successful season winning the UK South Championships with our AAPTI, Bdr Grist, finishing 2nd overall in the individual standings. The male team spearheaded by Maj Brown also did well and finished 3rd overall.
Led by the P&RTC staff, ATR Winchester has proven to have a huge presence in the British Army Warrior Fitness (BAWF) community. From competing in events across the south region to providing staff to facilitate events and hold important roles in the committees. Following the departure of Sgt Cawley, the mantle for team captain was picked up by two of our AAPTIs (Cpl Caine for the male team and Bdr Grist for the female team) and Sgt (SI) Dalton as the UK South media rep. In December, Winchester hosted a regional BAWF competition that was organised and delivered by Sgt Dalton, with the assistance of Cpl Harper and Cpl Lewis. The competition was a great success, with the ATR Winchester female team finishing in 1st place. The female team (Bdr Grist, Capt Waddington, Sgt Fife and Sgt Hilson) have won 3 out of 3 events in the 2023 season and are placed 1st overall with 1 event left to go.
Adventurous Training
Cpl Clark excelled in the delivery of AT this year, running Mountain Bike Foundation (MBF) courses in-house for the ATR W PS. He followed up by organising and delivering a 10-day expedition for eight PS in Spain (Ex TIGER SPIN). The team cycled 130 miles from Burgos to Corruna where they laid a reef on the memorial to Sir John Moore (after which the ATR W
camp is named). Cpl Clark also continued to represent the RLC throughout the mountain bike season alongside his numerous AT commitments and delivery of CMS 21.
In March 23, Sgt (SI) Quinn (along with a mostly AAPTI instructor team) delivered a 2-day multi AT expedition for the support company (Delhi) in Exeter. With Delhi Company being spread over so many departments it was a great team building opportunity. The PS took part in hillwalking, climbing & bouldering, coasteering and finished with a meal out and bowling.
Delhi Coy conducting Coasteering
135
    Ex TIGER SPIN Team
 SOLDIER DEVELOPMENT WING (SDW) SENNYBRIDGE
SSgt (SSI) G Spencer RAPTC
The Soldier Development Wing (SDW) has had another busy period continuing to deliver Type 1 Adventurous Training (AT) to over 4500 recruits from Army Training Centre (ATC) Pirbright and Army Training Regiment (ATR) Winchester over the last year.
Mental Resilience Training is an important part of Type 1 AT as it gives the recruits the chance to put what they have learnt in training into practice when they conduct these activities.
In July 22 we had a visit from ITG Comd Group, where the Brigadier's intent was
to build team cohesion by conducting a few activities which consisted of a day of paddling and mountaineering on Pen Y Fan. While the weather at camp was glorious sunshine the weather was pretty different at the top of the Fan!
There have been big changes to the Soldier Development Wing with a new Officer Commanding, QMSI and SO3 G4. The remaining SDW team would like to say a big thank you to Maj Mark Hale Officer Commanding and Chief Instructor WO2 (QMSI) Mudge RAPTC for their time at SDW and wish them the best of luck in their next roles.