Page 7 - AY STAR (1)_Neat
P. 7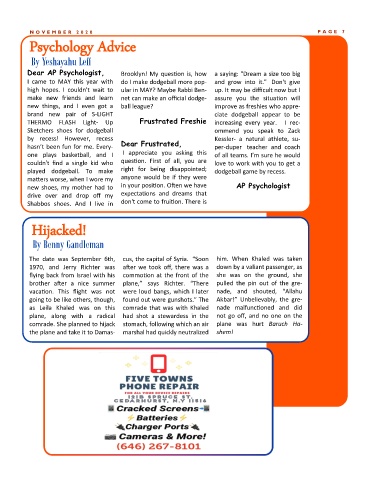 N O V E M B E R   2 0 2 0                                                                      P A G E   7
           Psychology Advice

           By Yeshayahu Leff


          Dear AP Psychologist,          Brooklyn! My question is, how  a saying: "Dream a size too big
          I  came  to  MAY  this  year  with   do I make dodgeball more pop-  and  grow  into  it."   Don't  give
          high  hopes.  I  couldn't  wait  to   ular in MAY? Maybe Rabbi Ben-  up. It may be difficult now but I
          make  new  friends  and  learn   net can make an official dodge-  assure  you  the  situation  will
          new  things,  and  I  even  got  a   ball league?             improve as freshies who appre-
          brand  new  pair  of  S-LIGHT                                 ciate  dodgeball  appear  to  be
          THERMO  FLASH  Light-  Up            Frustrated Freshie       increasing  every  year.     I  rec-
          Sketchers  shoes  for  dodgeball                              ommend  you  speak  to  Zack
          by  recess!  However,  recess                                 Kessler-  a  natural  athlete,  su-
          hasn't been fun for me. Every-  Dear Frustrated,              per-duper   teacher  and  coach
          one  plays  basketball,  and  I    I  appreciate  you  asking  this   of all teams. I'm sure he would
          couldn't  find  a  single  kid  who   question.  First  of  all,  you  are   love to work with you to get a
          played  dodgeball.  To  make   right  for  being  disappointed;   dodgeball game by recess.
          matters worse, when I wore my   anyone  would  be  if  they  were
          new  shoes, my  mother  had  to   in your position. Often we have     AP Psychologist
          drive  over  and  drop  off  my   expectations  and  dreams  that
          Shabbos  shoes.  And  I  live  in   don't come to fruition. There is


            Hijacked!


            By Benny Gandleman


           The  date  was  September  6th,   cus, the capital of Syria.  "Soon  him.  When  Khaled  was  taken
           1970,  and  Jerry  Richter  was   after we took  off, there was a  down by a valiant passenger, as
           flying back from Israel with his   commotion at the front of the  she  was  on  the  ground,  she
           brother  after  a  nice  summer   plane,"  says  Richter.  "There  pulled  the  pin  out  of  the  gre-
           vacation.  This  flight  was  not   were loud bangs, which I later  nade,  and  shouted,  "Allahu
           going to be like others, though,   found out were gunshots." The  Akbar!"  Unbelievably,  the  gre-
           as  Leila  Khaled  was  on  this   comrade that was with Khaled  nade  malfunctioned  and  did
           plane,  along  with  a  radical   had  shot  a  stewardess  in  the  not go off, and no one on the
           comrade. She planned to hijack   stomach, following which an air  plane  was  hurt  Baruch  Ha-
           the plane and take it to Damas-  marshal had quickly neutralized  shem!