Florida Sentinel 12-29-17
P. 1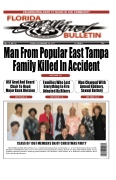 CELEBRATING OVER 73 YEARS IN THE COMMUNITY
        VOL. 73 NO. 38 FRIDAY, DECEMBER 29, 2017 40 PAGES 75¢
Man FromPopular East Tampa Family Killed In Accident
   USF Grad And Board Chair To Head Major Bank Division
SEE PAGE 2-A
SEE PAGE 2-A
Families Who Lost Everything In Fire Adopted By Bikers
SEE PAGE 10-A
Man Charged With Armed Robbery, Sexual Battery
SEE PAGE 12-A
           CLASS OF 1967 MEMBERS ENJOY CHRISTMAS PARTY
The Middleton High School Class of 1966 held its Christmas Party on December 16, 2017 at the Embassy Suites at USF. Members of Middleton's Class of 1967 were invited and enjoyed the evening, Seated are: Mary Hall, Mattie Smith, Vivian Franklin and Cheryl Collins. Standing, Henrietta Rice, Ora Williams, Janie Adams, K. C. Williams, Linda Williams, Rosa Pyles and Margie Seymore.